Search for #haterz tag
6 results found
The Rebellion Advent Calendar Day Seventeen: Haterz on sale now!
1 year ago
Christmas jingles making you feel murderous? We may have just the book for you...
In James Goss' Haterz, the protagonist does what many of us have dreamed of doing on our darkest days: carving a bloody swathe through half the population of the internet.
This particular slice of midnight-black comedy is now on offer in the Kindle store for only 99p. We suggest you go and grab it now - or there will be consequences...
The Rebellion Advent Calendar: Day Fifteen
2 years ago
Fifteen days into Advent, and only ten days to Christmas. In the North Pole, elf and reindeer alike wishes for an end to the Santa War, but none is in sight.
Santa has retreated into himself, a shell of the mighty red overlord he once was. In the west, Rudolfite troops wielding rolls of wrapping paper with star-shaped Christmas Tree toppers on the end push back loyalist elves. The mince pie mines are unproductive. Turkey supplies are dangerously low.
A lone loyalist, exhausted from trekking across no elf's land, somehow reaches Rudolf's command bunker. He is accosted by Red Nose's guards, treated roughly.
'Leave him,' says the benevolent ruby-nosed leader. He turns to the intruder. 'Why have you come, little elf?
'It's Santa,' says the elf, struggling for breath. 'He's... I think he might be dying.'
*
Wow. Dark days in the North Pole, dark days indeed - but not as dark as the goings on that James Godd conjures up in Haterz. A tale of social media savagery unlike any other, if you've ever felt like you hate the internet and everybody on it (as we all have from time to time), then this is the book for you.
And it's now only 99p/99c! Imagine that! Head over to Amazon and grab the eBook of Haterz for less than the price of... well, anything really. Go, before we change our minds!
Putin Found
3 years ago
BREAKING NEWS
Vladimir Putin, President and former Prime Minister of Russia, today emerged in public after an eleven-day disappearance and revealed, "I just got really caught up in this awesome book."
Turning up as scheduled for a diplomatic meeting with the President of Kyrgyzstan, Almazbek Atambayev, in St Petersburg, Putin said, "I'm really terribly sorry I've been off the radar for so long; really I didn't even know people were looking for me. You know how a great book can draw you in."
Last seen on March 5, at a meeting with Italian Prime Minister Matteo Renzi, Putin entirely vanished from the public eye until this morning, fuelling speculation that he had fallen victim to internecine Russian politics. The eyes of the world were on today's meeting with the leader of Kyrgyzstan, which was otherwise a routine meeting to discuss ongoing peaceful relations between neighbouring states.
Questioned about his long absence, the Russian leader (62) said, "I just picked up this book, you know, it's about the internet."
He then flourished a copy of James Goss's Haterz, out now from Solaris.
"I thought I was just going to read it for five minutes on the toilet, but with one thing and another I couldn't put it down.
"Obviously it doesn't take the leader of Great Russia eleven days to read a book! But I read it twice, you know, and made notes.
"I like the cats. Cats are funny, and cute. Also the bit where he has the man tied down and the bottle breaks - I laughed and laughed."
Asked if he would be reading more works by Goss, Putin declined to comment, but a spokesman for his office said he would be interested in arranging a meeting with the author.
Haterz launch - Forbidden Planet March 2015
3 years ago
Last night the great and the good, and the not so good (well it IS a book about a man who kills awful people on the internet) gathered in the basement of the Forbidden Planet mothership to celebrate the publication of the hilarious, gripping, terrifying and UTTERLY BRILLIANT Haterz by James Goss.
There were cats (ok a cat), there was laugher and what one onlooker described as "The Archers meets amateur dramatics" as James Goss and 5 hapless victims took to the stage to perform an extract from the book. But mostly there were books. Oh so many lovely books. And so many lovely people that we unfortunately sold out (but don't worry James will be popping back to sign the new stock when it arrives!)
Here's is just a small snapshot of the night's merriment (plus video footage of what we're sure must be the largest group reading ever performed during a FP signing).
My cat is sad because she is cynically being used to sell books.
Mrs Bradley aka "the cat" appraises her chapter.
The wonderful James Goss NOT LOOKING AT ALL FRIGHTENED.
Disclaimer: Solaris Books does not endorse this life message.
James Goss, the cat and the product placement arm.
One day in the future this picture will raise more questions than it answers to internet historians.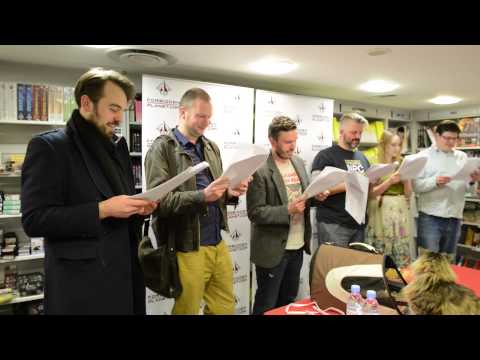 The reading!
HATERZ is out now: UK | US | DRM-free eBook
Haterz
Released
24 February 2015
Meet Dave. He decides that unfollowing someone just isn't enough. He's determined to make the internet a nicer place, and he won't stop at murder in order to achieve it. When he kills his best friend's girlfriend, he isn't planning on changing the world. She was just really annoying on Facebook.
But someone saw, and made him an offer. Someone who knows what he's capable of, and wants to use him to take control of the darkness at the heart of the internet. And now the bodies – the comment trolls, the sexual predators, the obnoxious pop stars – are starting to mount up...

In Haterz Goss fantastically and ruthlessly holds up a mirror to society in this blackly comic Orwellian fantasy for the 21st Century, which tackles everything we understand about our relationship with the internet; Haterz is in equal parts hilarious and terrifying, and guaranteed to make you look again at the world, both on and offline.
James Goss
James Goss has written three Torchwood novels, a Doctor Who novel and two radio plays. He won Best Audiobook 2010 and his books Dead of Winter and First Born were both nominated for the 2012 British Fantasy Awards.